THE IRISH ELK (CERVUS MEGACEROS)
I spent a considerable time, when a medical student in Dublin, working on various issues associated with the Irish Giant Deer, commonly known in Ireland as "the Old Deer" or the "Irish Elk".
See Irish Times, Dublin, January 3, 1953.
These studies principally involved examination of the skeletal anatomy of the fossil remains, with particular interest in several pathologic bone diseases, found in the great collection of remains that had been retrieved by my surgical teacher, Dr Henry Stokes, formerly President of the Royal College of Surgeons in Ireland. His publication –
"On Irish Elk and other Animal Remains found at Howthe and Ballybetagh, County Dublin,"
Irish Naturalist", May 1914, is an important early Irish document on this extinct animal. Among several lesions that I described and compared with the same bone diseases in other animals and in humans were Hypertrophic Pulmonary Osteo-Arthropathy, Arthritis Deformans, and Ossified Sub-Periosteal Haematoma. Some pathologies are illustrated in the attached images. I was able to display radiographs of these bones,
including the very small tail bones.
Because of their very small size these bones are not frequently recovered from the Irish bog. Few female skeletons appear in the collections, and it is likely that they have been misidentified as "cows" that have fallen in the bogs and lakes. In the males the cervical vertebrae are characterized by their great size, no doubt a correlation with the presence of the huge antlers that the beast carried. The findings of ossified sub-periosteal haematoma are particularly of interest and I have speculated that such an injury would most likely have happened following kicks that may have been received in fighting. In the wild such animals are seldom able to rest. These aberrant exostoses could be expected to follow from trauma. The earliest known drawing of the Irish Elk traces back to 1588 found in
"a great bogge within the County of Meath in Ireland"
and is shown here. An account is available in Chapter 2, page 32, ("On the Historical and Geological Background of the Irish Giant Deer") of my book "The Idle Thoughts Of A Surgical Fellow", CEP Books, Montreal, 1968.
| | |
| --- | --- |
| | |
| The Irish Elk (Irish Giant Deer). Author's sketch from articulated skeleton in Royal College of Surgeons in Ireland (Dublin), 1952 | Earliest drawing of skull and antlers (tynes broken) dug from the Irish bog at Rathfarnham, in 1588. Erected in the home of Adam Loftes, Lord Chancellor of Ireland. |
| | |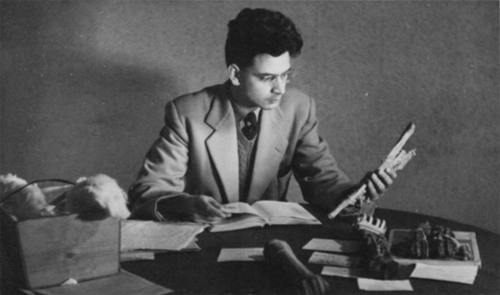 Stacey B. Day, then a medical student, studying bones of the Irish Elk in the home of Dr. Henry Stokes, Dublin.

Ossified subperiosteal hematoma Elk Cannon bone (Metacarpal).

X-ray showing abnormal bone exostosis (above specimen). No fracture.
| | |
| --- | --- |
| | |
| Small tail bones of Irish Elk, 15,000-50,000 years old. Remarkably well preserved with severe degree of disease visible. | Human bones, showing lesions comparable to those found in the extinct Irish Elk, Cervus magaceros |
| | |